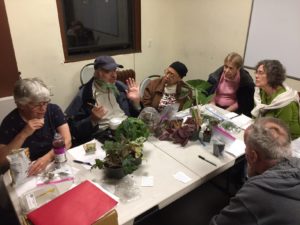 We are the Knickerbocker Chapter of the American Begonia Society. We meet to discuss the horticulture of Begonias.

Future Meetings and events:
Thursday, September 14, 2017
6:00-8:00 p.m.
Shetler Studios
244 West 54th St Room 1210
Topic: Begonias and Their Names
Slide Presentation
A fascinating slide presentation on loan from the Buxton Branch of the American  Begonia Society. Lots of photographs and information regarding the Begonias.
---
No meetings July & August

See "Meetings" page for 2017-18 schedule

Bring cuttings, baggies and markers!! There will be lots of material.
Bring dues of $18 if not paid; checks made out to Knickerbocker Chapter ABS.
Mail to:
Wallace Wells
PO Box 2034
Old Chelsea Station
New York, NY 10113-2034
Wallace Wells, Pres.
Download paper membership form Here
 Check out our Facebook page at